An evolutionary approach
Integrating ESG within our investment approach enables us to capture risks and opportunities that are linked to environmental, social and governance factors.
However, we do not see this as a 'revolution' for our established investment strategy but rather an 'evolution'.
As the macroeconomic background continue to change, the availability of ESG data and our ability to analyse and integrate it across the investment process should enable us to make better investment decisions.
M&G does not offer investment advice or make recommendations regarding investments. Opinions are subject to change without notice. Reference in this document to individual companies is included solely for the purpose of illustration and should not be construed as a recommendation to buy or sell the same.
For financial advisers only. Not for onward distribution. No other persons should rely on any information contained within. This financial promotion is issued by M&G Securities Limited which is authorised and regulated by the Financial Conduct Authority in the UK and provides ISAs and other investment products. The company's registered office is 10 Fenchurch Avenue, London EC3M 5AG. Registered in England and Wales. Registered Number 90776.
About Maria Municchi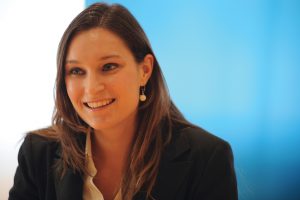 Maria Municchi is fund manager on several of M&G's Multi Asset Sustainable Investment strategies. Maria has been part of the Multi Asset fund management team since January 2017, having initially joined M&G in 2009 as an investment specialist to the Multi Asset and Convertibles teams. Before M&G, Maria worked at Barings and UBS Asset Management. She has an MSc in international management and finance, is a CFA charterholder, and has successfully completed the University of Cambridge Institute of Sustainability Leadership programme in Business Sustainability Management.
About Marie-Benedicte Senou
Marie-Benedicte Senou is an Investment Solutions Director. She is responsible for M&G's efforts to deliver outcome oriented strategies, client specific mandates and flexible investment partnerships. Marie joined M&G in 2020. Prior to this, she spent over 12 years at State Street Global Advisors as a Senior Multi-Asset Investment Manager and a Principal, where she was responsible for managing strategic, tactical allocations, as well as overlay and hedging investment strategies. Before that, Marie spent 4 years at HSBC and Société Générale in various investment roles . Marie earned a Master in International Economics from the University Paris IX Dauphine. She also holds two Post-graduate diplomas in Finance and Economics awarded from the University Paris IX Dauphine and Science-Po Paris. Marie is a member of the CFA Institute and the CFA Society of the UK.
Click here for more information about M&G Investments