Nationwide HPI has reported today that the annual UK house price growth slowed to 4.4% in November, from 7.2% in October. Prices have fallen by 1.4% month-on-month – which is biggest fall since June 2020. This follows a 0.9% drop in house prices in October as reported by Nationwide. The average house price (not seasonally adjusted) is now £263,788.

Commenting on the figures, Robert Gardner, Nationwide's Chief Economist, said: "The fallout from the mini-Budget continued to impact the market, with November seeing a sharp slowdown in annual house price growth to 4.4%, from 7.2% in October. Prices fell by 1.4% month-on-month, after taking account of seasonal effects, the largest fall since June 2020. "While financial market conditions have stabilised, interest rates for new mortgages remain elevated and the market has lost a significant degree of momentum. Housing affordability for potential buyers and home movers has become much more stretched at a time when household finances are already under pressure from high inflation. "The market looks set to remain subdued in the coming quarters. Inflation is set to remain high for some time and Bank Rate is likely to rise further as the Bank of England seeks to ensure demand in the economy slows to relieve domestic price pressures. "The outlook is uncertain, and much will depend on how the broader economy performs, but a relatively soft landing is still possible. "Longer term borrowing costs have fallen back in recent weeks and may moderate further, especially if investors continue to revise down their expectations for the future path of Bank Rate. Given the weak growth outlook, labour market conditions are likely to soften, but they are starting from a robust position with unemployment still near 50-year lows. "Moreover, household balance sheets remain in good shape with significant protection from higher borrowing costs, at least for a period, with around 85% of mortgage balances on fixed interest rates. Stretched housing affordability is also a reflection of underlying supply constraints, which should provide some support for prices.

Affordability becoming more stretched

"Even before the recent increases in mortgage rates, affordability was becoming more stretched across the UK, though with considerable regional variation. "To explore how this is impacting potential buyers we used regional income data to calculate where in the income distribution a prospective purchaser would sit if they were purchasing the typical first-time buyer property in each region, with a 20% deposit and borrowing four times their income. If the typical buyer is located higher in the income distribution it suggests affordability is more stretched, with more people priced out of the market. "In broad terms, the picture that emerges is that this hypothetical typical buyer is located further up the income spectrum as you go from the north to south of the country. "For example, in Scotland and the North of England, this typical buyer would be in the 30th income percentile, while in the South West they would be in the 80th percentile, and above the 90th percentile in London and the South East.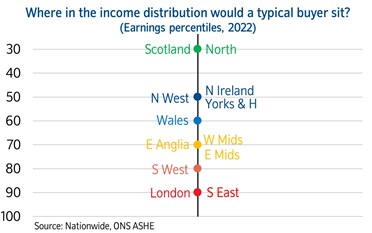 "As shown in the chart below, some regions have seen a more pronounced deterioration in affordability in recent years than others. In Scotland and the North region, the typical buyer is now located in the 30th percentile, compared with the 25th percentile in 2019, before the pandemic struck. Similarly, in East Anglia, East Midlands and West Midlands, the typical buyer has moved from the 60th percentile to the 70th percentile.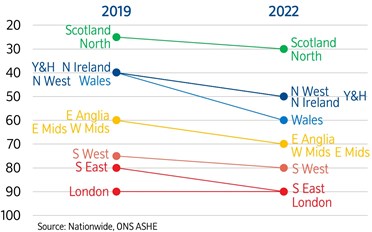 "However, the biggest deterioration in affordability since 2019 has been in Wales, with the typical buyer now located in the 60th income percentile, compared to the 40th percentile in 2019. "A higher income percentile signals that a larger proportion of people are priced out of the market or needing to borrow a greater income multiple to buy a home. Conditions remain most stretched in the capital; in 2019 the typical London buyer was already located above the 90th income percentile. The surrounding South East region has now joined it, with the typical buyer moving from the 80th income percentile in 2019."

Gary Boakes, director of Salisbury-based mortgage broker, Verve Financial: "It's no surprise the property market slowed sharply last month. Subdued is probably an understatement. The purchase market pretty much evaporated in the hours and days following the mini-Budget, as lenders hiked their rates and uncertainty gripped the nation. With inflation still rising and the base rate almost certainly set to be raised again this month, in November people were waiting to see what happens. On a positive note, gilt and money markets have stabilised and we are seeing fixed rates nudge down. Hopefully, this could make buyers a little more confident. First-time buyers seem to be the most active demographic within the market at present. Though mortgage rates are higher, rental payments are bordering on the obscene and first-time buyers know they hold all the aces when it comes to negotiating with sellers. As early as September, we started to see a larger number of buyers securing deals under the asking price and with talk of house prices dropping up to 10% next year, this looks set to be a common trend. Ironically, house prices will fall to where they probably would have been if we hadn't had the Covid boost of the past two and a half years, which could be a worry for people who have bought with 5%-10% deposits."

Benjamin Blyth, founder of Leicester-based Houz Mortgages: "Few will be surprised at the fact the property market slowed markedly in November. The mini-Budget took the wind out of its sails and then some. Affordability is also a real issue. A number of my clients have put their plans to move on ice for now, hoping for a combination of falling house prices and lower fixed mortgage rates as we head into the New Year. While it is almost certainly now a buyers' market, only a small percentage of those buyers will be landlords. Landlords have lost tax perks in recent years and they now face losing the ability to efficiently draw income via dividends for limited company buy-to-lets, along with the risk of lower Capital Gains Tax allowances. Combined with the increase in rates, fees and stress tests on buy-to-let mortgages, many property investors are holding back for now, which is no bad thing for first-time buyers seeking to escape the rental market. First-time buyers face less competition as landlords lick their wounds. I don't believe we'll see a significant house price crash like we did back in 2008. Lenders have funds to lend and are lending sensibly and there simply isn't enough supply, which will support prices. This should keep house prices from plummeting and may result in the relatively soft landing the Nationwide refer to."

Marie Johnstone, managing director at Edinburgh-based estate agents, Wilson Property Group: "As the recession takes hold in the coming 6-12 months and unemployment almost certainly rises, we will see a seismic shift in the property market and prices will continue to fall, just as they have in November. With rates set to rise further as the Bank of England attempts to rein in inflation, we could be in line for a 25%-35% decrease in average property values that it could take a decade to recover from. By January, it will very much be a buyer's market in Scotland, much like the rest of the UK. In Scotland, landlords are selling up portfolios, often at a significantly reduced rate. The cap on rental income has driven further uncertainty into an unstable marketplace. We could see an avalanche of flats coming onto the market in the New Year once the short-term lets have cashed in on the Christmas trade. The change in the rules from April 2023 is driving this. Where we are likely to see demand is from international buyers given the weakness of Sterling."

Zaid Patel, director at London-based estate agents, Highcastle Estates: "We are now in a market where buyers are trying their luck by offering 10%-15% lower than asking price to see which seller will panic sell. Not only are property investors lowballing, but so are first-time buyers, as they factor in their additional mortgage costs. As we approach the end of the year when the property market falls into a lull, there are a few sellers who are ready to take their 'loss' and move on with their life for a fresh start in 2023. Equally, there are plenty of cash buyers, who have liquidated some of their assets, on the look out for deals. They will now be integral to manage this housing market more than ever. Once prices drop 10%-15%, which they likely will, expect an influx of cash buyers, stabilising and settling the market."

Mike Staton, director of Mansfield-based mortgage broker, Staton Mortgages: "We have seen a lot of buyers and remortgagers put their plans on hold until the New Year, which isn't necessarily a bad thing. I do believe house prices will drop but not to the levels predicted earlier in the month, and predictions of 30% falls are frankly ludicrous. I would expect a 5% drop as we see activity slow down. I don't expect to see a market crash but more of a housing market reset as we put the whirlwind that was the Stamp Duty holiday-powered Covid years behind us. Anybody who is waiting for a 30% drop in order to get a bargain probably doesn't understand the housing market. However, if you are a landlord, I would consider asking Santa for a DeLorean for Christmas and fast forward to 2024. These days, you've got as much chance of getting a DeLorean than you have of getting a new buy-to-let mortgage at a decent rate."

Riz Malik, director of Southend-on-Sea-based R3 Mortgages: "Most of the purchase deals on my desk had price reductions between 5%-10% in November. This downward trend will become more apparent after Christmas when many people are going to consider their housing needs, investment yields and even their marriages. We have already started to see mass layoffs in the tech industry in the US and I believe this will be a sign of things to come. If Elon Musk can cut Twitter's headcount by over 50% and still operate, other companies will be taking note. The UK's labour shortage crisis could actually start to reverse. This will have further negative pressure on house prices in 2023."

Clarence Kuyoro, mortgage and finance expert at CK Talks Money: "Despite rising interest rates, I'm still meeting with clients who are keen to make offers on property before the end of the year, although clearly they are going in far lower than they would have six months ago. Lower offers have been accepted in 70% of the cases I've dealt with but, as for the other 30% of sellers, if they're not desperate to sell, they're happy to sit on their property with the hope of receiving asking price or not far off."

Samuel Mather-Holgate of Swindon-based advisory firm, Mather & Murray Financial: "Zoopla have confirmed what we all really knew, namely that demand has fallen 44% since the mini-Budget. We shouldn't lay all the blame at Truss's and Kwarteng's door, but this certainly was the catalyst of an abruptly stalling housing market. A combination of rising interest rates, higher taxes and lack of confidence has killed off any confidence in housing for the rest of the winter. Prices should fall around 20% and bottom out late Spring. This is when the Bank of England will realise they have made a terrible policy decision in raising interest rates too far and holding them for too long whilst the economy crumbles. Rates will then come down and confidence will return."

Malcolm Davidson, Director of Hull-based mortgage broker, UK Moneyman: "The Kwarteng/Truss fiscal statement put paid to the home purchase market for Q4, but anyone who thinks property values are going to plummet 30% next year is failing to read the stories behind the headlines. Think of the current property market a bit like a Boxing Day sale. People are simply choosing not to buy right now until they see exactly where prices are going to stabilise. You don't go from 20 buyers for every one home on the market to a 30% drop within months. Make no mistake, demand is still there and I feel the market will prove its resilience once again in 2023 like it always does. If values do come down next year, this is tremendously positive news for first-time buyers and those looking to upsize as there should be more opportunity to negotiate on asking prices. Property should always be viewed as a long-term investment, as some years values come down, but most years they go up and history tells us that those who bought at previous peaks tended to make money on their homes in the long run."

Justin Moy, founder at Chelmsford-based mortgage broker, EHF Mortgages: "Demand for residential mortgages has stalled sharply over the past two months. As rates have crept up, there has definitely been a panic to sell 'quickly' and to secure a mortgage deal as soon as possible. It's not only interest rate costs, but the sharp increase in general household expenditure that is worrying for first-time buyers in particular. Their affordability has been hit hard. We expect the market will start to pick up in the new year, as mortgage rates find their level and there is more stability generally. Lenders with fresh targets will be keen to make a strong start to 2023. That will help with affordability and, coupled with realistic property prices, will slowly help the recovery throughout the year, potentially resulting in a soft landing. Property prices will 'adjust' over the next year or so, and a lot of that adjustment will be due to more realistic pricing by sellers and agents, and some will be due to market conditions. But as long as any reduction in sales price is reciprocated with the onward purchase, there will still be those wanting to move. Just a smaller pool of movers. Other recessionary issues, such as job security, will also frighten many from moving or buying their first home. Those aged 30 or below will not have had exposure to a recession, so they are suddenly entering there great unknown. Over a decade of low, stable mortgage rates and cheap essentials have suddenly gone, and many will be more cautious in the months ahead."

Austyn Johnson, founder at Colchester-based Mortgages for Actors: "Demand from property investors and landlords definitely dropped last month but among owner-occupiers, it stayed much the same, and even grew slightly. A lot of landlords are holding back for a possible price crash so they can swoop in and buy property at a bargain. I don't think we will see as bad a recession as we are led to believe. Drive past a fast food drive-thru and it's full. Go to the town centre, and it's rammed. People are still spending and living pretty much the same. There is more worry maybe, but not many have changed their habits for now at least. Historically, house prices are never been on a continued upwards curve, and there are always dips. What drops will pick back up again. I don't believe that we will see a huge crash like the 80s or during the Global Financial Crisis, but I do think we will see a small one. Lenders have been working affordability into their applications for exactly this event."

Graham Cox, founder of the Bristol-based broker, SelfEmployedMortgageHub.com: "Many of our clients are sitting tight and waiting until the New Year before looking to buy property. Partly it's the time of year, but mostly it's a realisation that house prices are falling and there's no harm in holding off. I'll be surprised if house prices don't fall at least 10% next year, but 15%-20% is entirely possible for three reasons. First, 95% LTV mortgages are likely to disappear, removing a key support for the housing market. Second, current prices are simply unaffordable when even a tracker rate mortgage rate is likely to be 4%-5% soon. Third, a lot of forced sellers will drive down prices."

Lewis Shaw, founder of Teesside-based mortgage broker, Riverside Mortgages: "Demand for new mortgages dropped off a cliff in November due to higher mortgage rates, and the market has now flipped from a seller's market to a buyer's market almost overnight. We're starting to see prices reduce. However, that data won't show for another six months, by which time sale prices will likely be 10% below the peak of summer 2022 on average. Even if unemployment does rise, we've still got a very tight labour market, and we've still got a shortage of good-quality new homes. All of this taken together leads me to the conclusion that prices won't go much further than 15% in the worst case scenario and more likely they'll bottom out around 10%."

Imogen Sporle, Head of Term Finance at London-based Finanze: "While October was a tough month, we did not see any drop off at all for residential property in November. Where demand has fallen is among landlords due to the rental income not fitting the required debt service coverage ratio the lenders require in order to meet the now higher monthly mortgage payments. In the past six months or so, savvy landlords have been releasing maximum equity from their portfolios when rates were low and fixed their mortgages in for five years. They now have a cash surplus to snap up properties when the expected crash occurs. I can see why we think it would be a buyers' market now but I think, due to the sheer demand for property, we are still very much in a sellers' market and will be for quite some time. The only way I see this changing is if we have an influx of new properties being built. That said, I do not think it's going to be as competitive for buyers and I doubt offers will be over market value as they were at the beginning of the year. Prices could fall by 10%-15% max. While rates are rising, lenders will always want to lend and are creating ways of doing so whether this is by relaxing criteria and affordability calculations or offering higher loan-to-values. Because of this, I believe the market will stay afloat and we also have many overseas investors in the UK who are not going to be affected by the UK cost of living crisis so can still purchase properties, which will support values. Even with a recession, I do not think we will ever see a repeat of 2008 again and even with a rise in unemployment there are still going to be those that have planned for this and will do well during this time, whether that's buying properties at auction that have been repossessed. I think there is such a divide in the UK now between the rich and poor that the rich will benefit from this recession and the 'poor' will be the most affected, but it's likely that those in this group were not the ones purchasing properties in the first place."